Have you ever wrestled with the dichotomy between the arts and Christianity? So have we.
That's why we're inviting you to join us for a community-wide event in Syracuse, NY. It'll be a night of FAITH + ART with featured creatives, conversation, and community. We'll talk about this intersection in light of what is true, good, and beautiful.
________________________________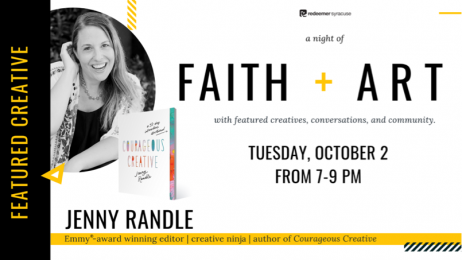 Our featured creative this month is JENNY RANDLE. As a speaker, author and creative ninja, Jenny Randle believes deeply in the power of story. At the age of 18, she encountered the greatest love story ever told, the Gospel. The prayer that followed was simple: "Use me to make an impact for you."
Since that prayer, Jenny has served in ministry and worked in the entertainment, publishing and creative industries. In 2009, she was recognized with one of the highest honors in the entertainment industry – an Emmy® Award. From a DJ on the radio to working in the heart of Hollywood editing content for billion-dollar franchises, God has empowered her to craft stories that carry impact.
Jenny's latest story is releasing on October 2, and we want you to be there! "Courageous Creative", is a book that encourages others to understand their God-given identity, creativity, and purpose.
FAITH + ART will be celebrating the release of "Courageous Creative" with a mix & mingle, Q&A, and book signing with author, Jenny Randle.
Invite your friends to Spark and join us for light refreshments, and creative conversation as we celebrate the intersection of FAITH + ART.
FAQ:
– This event is free and open to the community.
– If interested, books will be available for purchase on site.