Does my work matter or am I just collecting a paycheck? How can my leadership within business reflect the heart of God? What work can I do where I feel connected to something larger than myself? If you've asked these questions, we invite you to attend the FAITH + WORK luncheon series right here in Syracuse, NY.
It'll be a lunch with industry experts, conversation, and community. We'll talk about how the gospel not only transforms our view of work but also connects it to God's work.
________________________________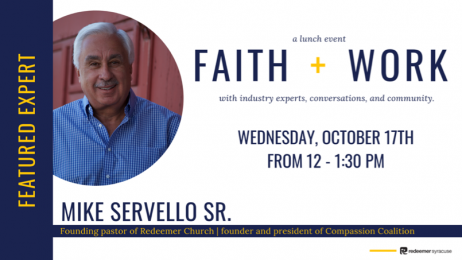 Our industry expert this month is Mike Servello Sr. Mike has worked in the for-profit world and non-profit worlds. He is the founding pastor of Redeemer Church, a large and growing church with five campuses in the upstate New York area.
Mike and his wife Barbara have pastored since 1981 taking a small church and developing it into a Region-Reaching church. Mike is also the founder and president of Compassion Coalition, a ministry which this year alone gave $20 million in products and services to people in need throughout upstate New York and around the world.
Invite your friends and co-workers to the Embassy Suites of Destiny USA for community and conversation as we explore the intersection of FAITH + WORK.
FAQ:
– This event cost $15 per person and is open to the community.
– Located at the Embassy Suites of Destiny USA
– Wednesday, October 17th from 12 pm – 1:30 pm
– FAITH+ WORK is a monthly luncheon series focused on strengthening your leadership within the workplace.