We are so excited to invite you to Belong Conference 2019!
What is our only hope in life and in death? That we are not our own but belong, body and soul, both in life and death, to God and to our Savior Jesus Christ. – New City Catechism, Question 1.
God's desire is to seep into every area of our lives and to establish within us that we fully belong to Christ. Belong Conference is a gathering for women of many ages, backgrounds, and walks of life that exists to inspire hope and new beginnings. A declaration that we belong to God and He is making all things new.
Stacy Reaoch and Kristen Wetherell will be joining us the weekend of March 29 & 30 at Redeemer Church for two packed days of sessions. It's going to be an amazing time of Christ-centered worship, powerful teaching, connecting together, and just plain fun! We can't wait to see you there!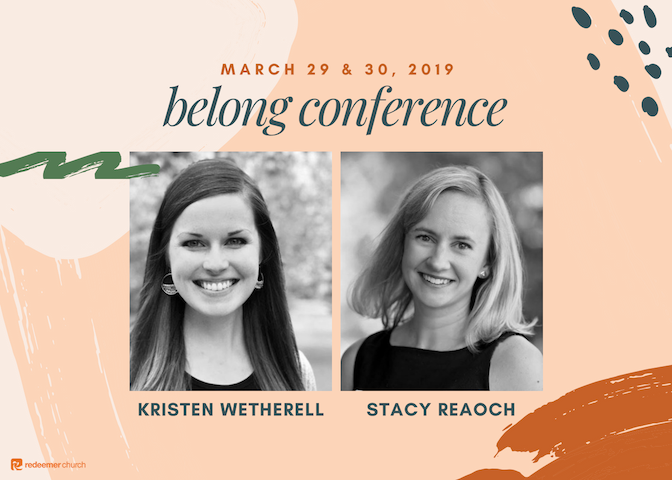 2019 Conference Details
Cost: $60.00 a ticket | Register today before we sell out!
When: March 29 & 30, 2019
Where: Redeemer Church Utica | 931 Herkimer Road Utica, NY 13502
Schedule

Friday
1:00 PM: Afternoon Registration
3:00 PM: Session 1
4:30 PM: Dinner Break
5:00 PM: Evening Registration
7:00 PM: Session 2
9:00 PM: After Party – Desserts, Raffle Prizes, Fellowship, and fun times with your gals.


Saturday
8:00 AM: Women's Breakfast* (additional information below)
10:00 AM: Session 3
11:30 AM: Lunch Break
1:30 PM: Session 4

All seating is first come first serve.
Due to the size of the event, Childcare will not be able to be provided. Thank you for your understanding.
Come and bring every woman you to know to this two-day event packed with great worship, powerful speaking, and more sessions than ever this year! Our heart is for you to leave this women's conference inspired and with a full understanding that you belong, body and soul, to God and our savior Jesus Christ.
*Women's Breakfast Additional Information: This will be a special time of ministry and conversation on the topic of "Ministry Leadership", where breakfast and a gift will be included. Space is limited to 100 seats. Sign up before the seats are gone, you will not want to miss this!
2019 Conference Speakers
Stacy Reaoch
Stacy is a pastor's wife, mom of four kids (ranging from 5-15), and the author of Wilderness Wanderings: Finding Contentment in the Desert Times of Life. Stacy is passionate about studying the Bible and helping women apply Gospel-truth to their daily lives. She also writes for various ministries including Desiring God, The Gospel Coalition and Revive Our Hearts. Stacy and Ben have been married for 19 years and live in Pittsburgh, PA.
Kristen Wetherell
is a writer, Bible teacher, and the content manager at Unlocking the Bible. She is co-author of the award-winning book Hope When It Hurts: Biblical Reflections to Help You Grasp God's Purpose in Your Suffering. She and her husband, Brad, are members of The Orchard in Itasca, Illinois. They have one daughter, Joanna.
Hotel Information
Here are a few great options if you need a local hotel. Book as soon as you're able in order to secure your room. If you're booking over the phone, mention that you're with the Belong Conference/Redeemer Church, as we have rooms blocked out at each hotel.
Hampton Inn & Suites – New Hartford – Phone Number: (315) 793-1600
Hotel at Utica Center (Formerly known as The Radisson) – Phone Number: (315) 797-8010
Fairfield Inn & Suites by Marriott Utica – Phone Number: (315) 798-9600
Holiday Inn Express & Suites Utica – Phone Number: (315) 724-2726
All listed hotels are less than 5 miles away from Redeemer Church in Utica.
If you have questions or would like more information, please do not hesitate to contact us!