Encounter Camp is an amazing annual event, joining together the youth from all five of our campuses as we seek God and grow in Christ-centered relationships. At Redeemer Church, we are passionate about seeing students discover the life-transforming power of the Gospel!
Encounter Camp is July 8-11th, and the cost is $220/per student and includes all food, lodging, and activities. Registration for this event fills up every year, so don't wait.
But wait, there's more!
Parents, we've made registration easier than ever. This year, you can fill out the permission slip online, and download, fill out, and send/scan/hand in the medical release form to Pastor Tim in Utica or Pastor Jacob in Albany! How cool is that?! You'll find each slip below:
Camp Details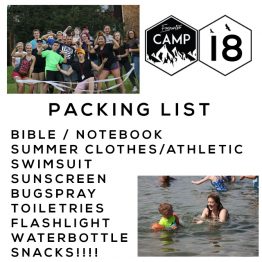 UTICA Campus: We will leave from the Utica location (931 Herkimer Rd.) at 2pm, Sunday, July 8th and return Wednesday, July 11th at @1pm
ALBANY Campus: We will leave from the Albany location (183 Schoolhouse Rd.) at 1:30pm, Sunday, July 8th and return Wednesday, July 11th at @1pm